This page is part of the FREE site located at http://logan.illinoisgenweb.org/. There is NO charge to access any page on this site. If you have arrived here through a pay site click here to go to the original free Logan County ILGenWeb site.
COLVIN SCHOOL 1946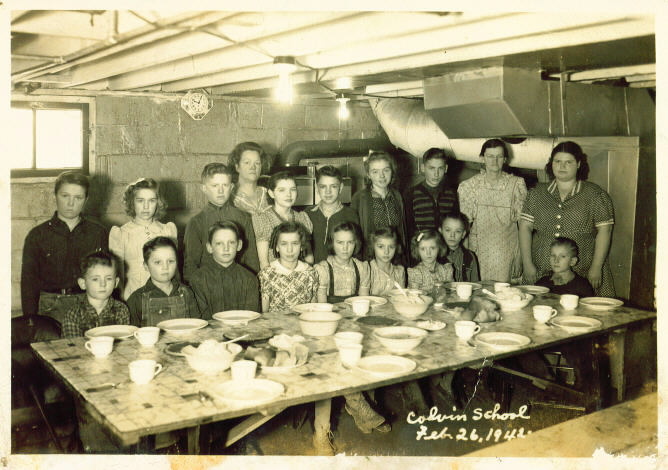 The following was typed on the back of the picture:
Standing-Left to Right:
James Shehorn-6th Grade; Irma Lee Cruse-6th; Eugene Rentmeister-8th; Mrs. Virgie Bishop-our lovely teacher; Thelma Snyder-6th; Jack Gasaway-8th and 12 years old; Virgie Lee Howe-8th; Harold Dean Cruse-8th; Eliza Gasaway-cook; Betty Lou Shehorn-7th.
Sitting-Left to Right:
Bobby Weston-1st; Kenneth Shehorn-2nd; Robert Shehorn-4th; Norma Seefeldt-4th; Betty Lou Cruse-4th; Willa Mae Centers-3rd; Mary Ann Centers-1st; Verne Lee Garrison-4th; Glenn Gasaway-4th.
We gave the picture man a piece of pie. He came back Monday at noon. Eliza is cooking for Virginia. Virginia is sick. The picture man was a funny looking "buzzard" with about 2 teeth out in front. We had mashed potatoes, gravy, squash and raisin pies for dinner that day. The clock had stopped. It was really 11:45. I forgot to tell enough about the picture man. He was tall, dark, but not handsome.