This page is part of the site located at http://logan.illinoisgenweb.org/. There is NO charge to access any page on this site. If you have arrived here from a pay site, you can click here to go to the original free ILGenWeb site.



CORNLAND SCHOOL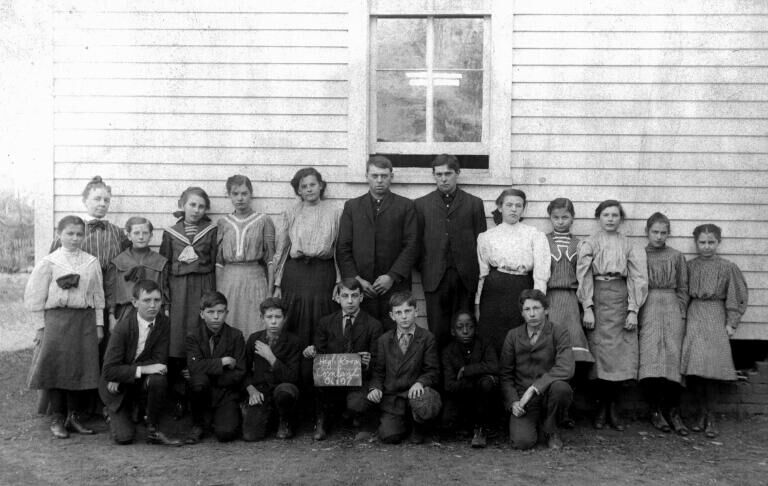 This picture was contributed by Darlene Lercher Smith. She does not know the names of the people in the picture. Do you? She believes that they include Anna May Irving Lercher and her sister Lela Jane Irving Downing.
These are notes by Anna May Irving Lercher, Darlene's grandmother, that were with the picture.
You are invited to attend the 3rd annual reunion of the Cornland School to be held at the M.E. Church in Cornland on June 9, 1935. Picnic dinner at noon. Come and meet friends you have not seen for years.
Greetings to all my friends present at the 1937 Cornland School Reunion: Owing to a bit of bad luck I am not with you in person today, but am thinking of the nice time I know you will have.
I am glad to say that I am on the upgrade again, and am looking forward to celebrating the 1938 Reunion with you.
Good luck, and a happy day to all.
Your Old Teacher - C. F. Lanham

314 Delavan Street
Lincoln Illinois

Welcome old friends. Yes, the Leach family I see occasionally - I hope Ethel will be with you.
Thanks for remembering me. Sincerely,
Lucy Q. Gillett

Dear Alsie:
Due to various reasons (which I do not care to mention) I wish to resign as Scty-Treasure of the School Reunion.
Sincerely,
Melba Arney

Programe '37
1. School Days
2. Selection by Konda Bohr
3. Violin Solo - Emma Jean Oglesby
4. Duet by Betty & Eugenia
5. Song (Solo) by Emma Jean Oglesby

Minutes of last yr. Meetings & nominating Comm. Reading of letters. Frank Zimmerli, Erma McCue & Netti Nicholson Benediction.

On Back:

Mrs. Sadie Lanham 1143 W Decatur
Mrs. Lester Stahl
Mrs. May Berry 811 W Mullberry Bloom
Mrs. Bertha Day Decatur Ill 1100 N Raita Ave Tell Norma Tompson
Neina 729 W Grand Decatur Ills.
Mrs. Myrtle Rentchler - Illiopolis Ill.
Kathrine Ramsy - Broadwell Ill
Alf Greening Springfield - Ferguson
Daisy Bristol
Tell Jim Peirce Mary & Alice
Meeting was called to order by Pres. Myrtle Likens
By audience singing America
Prayer by Bro. Beckholt
Reading of minutes and Sec. Report
Song - By Mrs. Beckholt, "The Church By the Side of the Road" One minute of silence for those Gone on before, They were Hiram Day, Joe Johnson, Kitty Jones, Alfred Wilson
Song by Lynman Key - "Silver Haired Daddy of Mine"
Present were three old school teachers C. F. Lanham, Mrs. Margaret Laushbaugh, Mrs. Lucy Curphy
Short comments were given by all three
There were five present that attended the old school

Talk by Alfred Greening

Report of nominating Committee

Frank Zimmerli, Georgia Lanterman, Alsie Townes, Guyola Criland Sec. Of Treas.
Melba Arney Basket Committee
Esther Cherry, Iola Collier, Margaret Oglesby, Reception Committee past presidents

Program Committee Erma McCue, Babe Stahl, F. G. Zimmerli Kitchen Committee Reva Greening, Georgia Lanterman, Ruth Brachear Dining Room Committee, Lulu Lanham, Chairman Closing selection Home Sweet Home by Patricia Beckholt
Main page. To return to the page from whence you came use your browser's BACK button.
© by Cheryl Rothwell for ILGenWeb
This page is "Cornland School" on the Logan County, Illinois, ILGenWeb site. The address of this page is http://logan.illinoisgenweb.org/cornlandschool.htm. This page was last revised on December 2, 2003.
All materials contained on these pages are furnished for the free use of those engaged in researching their family origins. Any commercial use or any use for which money is asked or paid for any reason is strictly prohibited.