This page is part of the site located at http://logan.illinoisgenweb.org/. There is NO charge to access any page on this site. If you have arrived here from a pay site, you can click here to go to the original free ILGenWeb site.



HUNTER SCHOOL 1934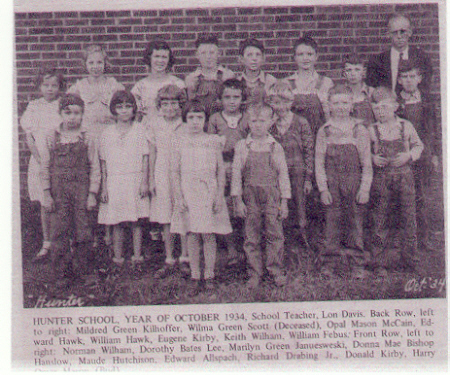 HUNTER SCHOOL YEAR OF OCTOBER 1934, School Teacher Lon Davis.

Back Row, left to right, Mildred Green [Kilhoffer], Wilma Green [Scott], Opal Mason [McCain], Edward Hawk, William Hawk, Eugene Kirby, Keith Wilham, William Febus.

Front Row, left to right, Norman Wilham, Dorothy Bates [Lee], Marilyn Green Januesweski], Donna Mae Bishop [Hanslow], Edward Allspach, Richard Drabing, Jr., Donald Kirby, Harry "Bud" Mason.
Note that every boy has on overalls.
This picture was submitted by Nancy Mason Howerton, daughter of Harry "Bud" Mason.