This page is part of the FREE site located at http://logan.illinoisgenweb.org/. There is NO charge to access any page on this site. If you have arrived here through a pay site click here to go to the original free Logan County ILGenWeb site.
MT. PULASKI 4TH GRADE 1955-56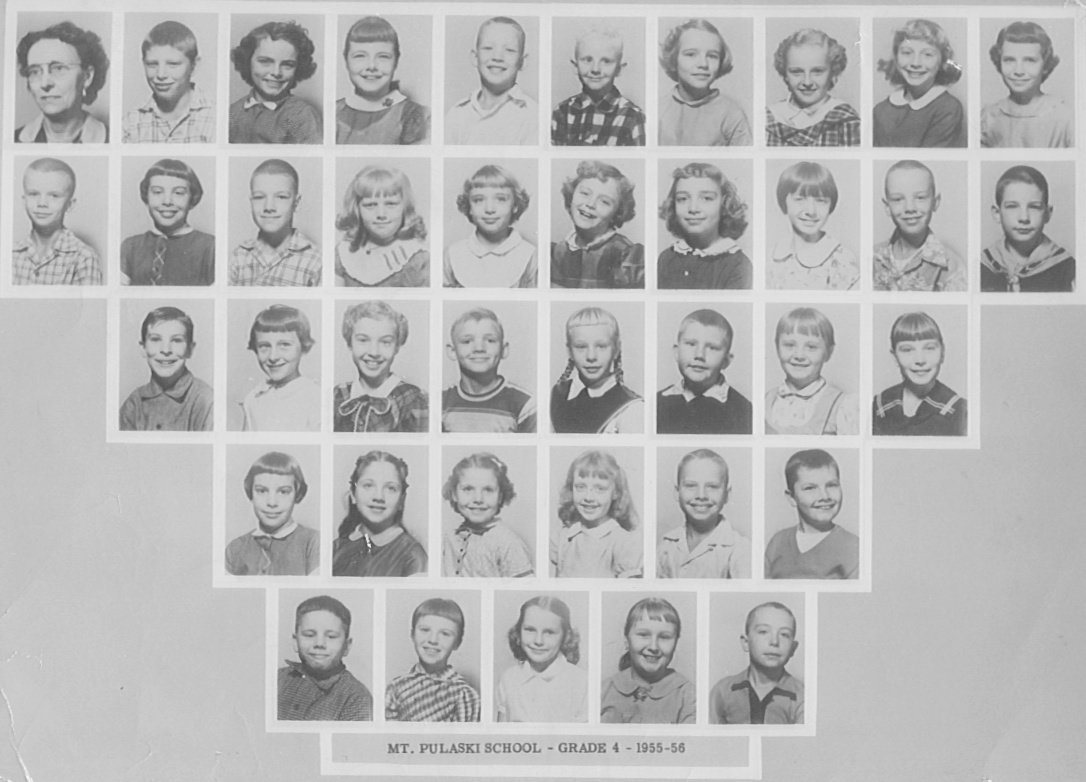 Top Row: Mrs. Turley, Butch Scroggin, Cheryl Rothwell, Susan Connelly, Kenny Greenwood, Kenny Chapman, Patsy Star, Connie Brownley , Theresa Hayden, Linda Mann
2nd Row: Danny O'Brien, Carylyn Fuhrer, John Zimmerman, Phyllis Riedle, Faye Black, Camille Kafka, Sandra Sams, Linda Buckles, Jimmy O'Brien, Fredrick Lipp
3rd Row: Roy Hahn, Carol Schaffnecker, Judith Stuckle, Mike or Tom Donough, Diane Hamm, David Jackson, Maxine Van Fossan, Paula McCubbin
4th Row: Marylyn Fuhrer, Carolyn Scroggin, Carol Scroth, Becky Rowland, Phillip Jacobs, Jimmy Cox
5th Row: Jerry Buckles, Linda Turner, Pam Hanslow, Pat Leimbach, Wilbur Glick, Jr.
Identifications by Marylyn Fuhrer Downing and Cheryl Rothwell. The two missing names were provided by Maxine Van Fossan Williams after seeing the picture online.
I believe there were 40 in the class so three are missing. One would seem to be David Shellhammer.
---
This page is "Miss Turley's 4th Grade 1955-56" on the Logan County, Illinois, ILGenWeb site. The address of this page is http://logan.illinoisgenweb.org/mp4th1955.htm.
All materials contained on these pages are furnished for the free use of individuals engaged in researching their personal genealogy. Any commercial use or any use for which money is asked or paid for any reason is strictly prohibited.
Copyright by Cheryl Rothwell