This page is part of the FREE site located at http://logan.illinoisgenweb.org/. There is NO charge to access any page on this site. If you have arrived here through a pay site click here to go to the original free Logan County ILGenWeb site.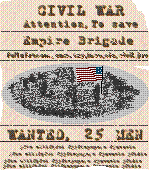 LOGAN COUNTY
AND THE CIVIL WAR

If you have family members who served in the Civil War and would like to contribute please send information, including Logan County connection and your relationship, to Cheryl Rothwell.

Leo Myers, below, gives insight into local reaction to the first county death in the Civil War and thus is given more space.
Leo MYERS The Civil War - Seventh Infantry. The first call of the President was for troops for three months service. Capt. Wyatt's and Captain Holden's companies became part of the Seventh regiment, as Companies E and H, respectively. The former was enlisted April 16th, the latter April 17th. Illinois having sent six regiments to the Mexican War, by courtesy, the numbering of Illinois regiments began with number seven. Hence the Seventh Regiment was in reality the First Regiment. The roster enrolls all members of the three months service as being from Springfield, so that it is difficult to individualize Logan County men in companies other than Capt. Wyatt's and Capt. Holden's. On the organization of the company, John Cook, of Springfield, was made Colonel and Capt. W.D. Wyatt was promoted to Lieutenant Colonel. Capt. Wyatt was succeeded as captain of Company E by Lieut. George H. Estabrook. Company H was officered as follows: Clifford W. Holden, Captain (Clifford's father was a musician in his company - William Holden aged 66); Christopher C. Mason, First Lieutenant; Leo W. Myers, Second Lieutenant; Jacob L. Ring, First Sergeant. [There is also listed a Charles J. Myers who enlisted in Springfield the same day as Leo into Company I as a corporal. He was promoted to sergeant and killed at Altoona Pass, GA on Oct 5, 1864.] I think I remember that Jacob Ring was promoted to Company Commander after Leo's death, subsequently promoted to Captain, and survived the rest of the war.
Muster and Descriptive Roll of Company H - Leo Myers was initially mustered in as a 2nd Lt on Apr 25th, 1861. Term was 3 months and he was subsequently mustered out on Jul 25th, 1861. The following information was provided by Leo Myers on his mustering in July 1861: 1st Lt, Age 35, 5' 8 1/2" tall, Dark Brown hair, Black eyes, Light complexion, Single, Farmer. Born Fredericktown, Frederick County, Maryland. Joined for service in Mound City, IL by Go Gates for a term of 3 yrs. He was the only man on the muster described as having "black eyes."
Funeral of Leo W. Myers - The terrible casualties which attended the engagement at Pittsburg Landing, known in history as the Battle of Shiloh, awakened the North to the terrible cost of blood and treasure which was yet to be poured forth, as libations upon the country's altar, before the Union should be again restored. Company after company left Logan County for the front, but not until word was received, that in the red rain of fire at Shiloh, two well-known citizens of Logan County, Leo W. Myers and John H. Duff, had been instantly killed, and numerous other injured, did the real seriousness of the war dawn upon the people of this county. Leo W. Myers had been for years identified with the public work of the county, had acquitted himself with credit in the Mexican War and was loved and respected. His death was substantially the first fatality for Logan County in the war. Upon receipt of the news at home, that Leo Myers had been killed, April 6th, 1862, on Shiloh's field, a meeting of citizens was called at the Court House, James Coddington presiding. Committees were appointed to arrange to have the body brought home. A committee consisting of Judge Parks, George H. Campbell, William Springer, Robert Latham, and A. B. Nicholson, was appointed to take charge of the obsequies. Robert B. Latham was selected marshal and a committee of general arrangements selected, consisting of James Coddington and others. The obsequies occurred Sunday, April 27th, 1862. The funeral address was delivered in the Court House, by George H. Campbell, a farewell address was also delivered by Judge S.C. Parks and prayer by Rev. James White. The entire city was draped in the colors of sorrow and mourning. The funeral procession, headed by the band, included the returned volunteers, the officials of the town and county, the ministers of the churches, various civic bodies and citizens in carriages. At intervals during the entire day, the church bells were tolled. Later when the local post of the Grand Army of the Republic was formed, it took the name of Leo W. Myers Post, which it still retains to this day, suggestive not only of the heroic character of the man himself, but of the first Logan County bloodshed in defense of the Republic. Leo Myers was buried in Lucas Cemetery, near Rocky Ford, where every year, special commemorative services are held by the old soldiers, the Sunday following Decoration Day. Within a few hundred yards of which Leo Myers is buried and these services are held, Abraham Lincoln, with chain and tripod, a quarter of a century before the war, laid out and surveyed a town (now out of existence), in the then wilderness. Lieutenant Daniel L. Ambrose, in 1868, wrote a history of the Seventh Regiment and referring to Leo W. Myers' death at Shiloh, says: "Lieutenant Leo Washington Myers died as warriors die - - nobly. Amid shooting flames and curling smoke, he bravely sacrificed his life. Being among the first to rush to the standard, when treason lifted its head, he was elected second Lieutenant Company H, and at the end of three months' service, was unanimously chosen First Lieutenant, in which capacity he valiantly served until his life was sealed, at Shiloh, April 6th, 1862. In the wild storm that swept over that field, no truer patriot was borne down than Lieutenant Myers. With Taylor and Scott he fought for liberty on the plains of Mexico. With Wallace he died for it down by the Tennessee."
A memorial window honoring Leo Myers was put into Lucas Chapel, paid for by the GAR post named after him - Leo W. Myers Post GAR, No. 182. His military records obtained from the National Archives indicate only that he was inducted into the Union, served at Shiloh, and was killed there. Submitted by great great grandson Gary Binam

Thomas M. McMULLEN of Lincoln, Logan County, Illinois, served as a Private in Co. G, of the 106th Infantry. A native of Ohio, he was inducted into the military on August 5, 1862 and was listed in a muster roll in Lincoln, IL., September 17, 1862. After service in Tennessee and Arkansas he was released from active duty in Pine Bluff, Arkansas, July 12, 1865. His final discharge was from Camp Butler, Springfield, Illinois, on July 24, 1865. Thomas applied for a military pension in April of 1879 due to "Disease of the lungs." He received $4.00 a month effective April 1879. Thomas applied for an increase to his military pension on November 30, 1889 and received $2.00 a month increase. He and died July 11, 1892 in Lincoln, Logan County, Illinois, at 65 years of age. He was buried July 13, 1892 in the Union Cemetery in Lincoln, Logan County, Illinois. Submitted by great great grandson Wayne C. Williams, Jr.

William B. C. TIPTON of Broadwell - Logan County, Illinois, was a private in the 73rd Regiment, Company F., Illinois Infantry. He was wounded in action at Stones River, Murfreesboro, Tennessee on Dec.31, and died from his wounds the next day, January 1,1863. Great Uncle of the submitter: Stephanie Cooper

Thomas J. LARISON raised a company of cavalry, and served three years and nine months in the army, being promoted from Captain to Major. Thomas J. Larison was part of Company B, of the 2nd Illinois Cavalry - rank of Major. Feb. 16, 1863, mustered June 13, 1863, resigned March 10, 1865. One of the primary battles in which they fought valiantly was at Shiloh, Tennessee - Submitter: Marlyn J. Duff

Theodore E. NIEWOLD was born in Holland Jan. 9, 1839, and served in the 73rd Regiment, Company F, Illinois Infantry. He died of an unknown disease in a hospital in Nashville, Tennessee. Buried 1551 College Hill Cemetery, Nashville. December 22, 1862. Submitter: Jim Niewold - great grandnephew

Abraham S. HOKE, enlisted with his brothers Richard HOKE and Hillakier HOKE as Privates of Company "E", 106th Regiment Illinois Volunteers. All 3 brothers enlisted on August 4, 1862. Abraham Hoke died April 27, 1863 at Bolivar, Tennessee. Richard was discharged in St. Louis, Missouri, due to disability November 14, 1863, and died February 5, 1865. Hillakier Hoke was discharged in Pine Bluff, Arkansas, on July 12, 1865. Submitter: Joyce Vetter

William Nelson DOWNING of Mt. Pulaski served in Co. D, 106th Infantry. The 106th was made up predominately of men from Logan County. Only Companies A and K were from other counties, Sangamon and Menard respectively. William, a private, served with two of his brother-in-laws, Henry Clay DOWNING, also a private, and Alexander DOWNING, a sargeant. William enlisted on September 11, 1862. The 106th was assigned to Provost duty at Jackson, Tennessee, and as railroad guard along Mobile and Ohio tracks until March 1863. They were in Bolivar, Tennessee, in March 1863, and moved on to Vicksburg, Mississippi, for the seige June 9-July 4, 1863. After the surrender at Vicksburg they moved to Arkansas where they participated in numerous actions. William developed 'typhoid pneumonia' [according to official documents] and died in Regimental Hospital, Pine Bluff, Arkansas, on April 30, 1865. He was buried in the Downing Cemetery, the land for which was donated by his father Samuel DOWNING. The 106th mustered out July 12 and was discharged at Springfield, Illinois, July 24, 1865. Henry Clay Downing returned home before the end of the war and died October 11, 1864, possibly from injury or disease as a result of his military service. Alexander Downing survived the war and died May 14, 1906. Submitted by great great granddaughter Cheryl Rothwell

John ISONHART born approx. 1840 served in Company K of the 28th infantry. He enlisted Aug. 12 1861, was re-enlisted as a veteran of Company D . the 28th was organized at Camp Butler Aug. 15, 1861. It was mustered out of service Mar. 15, 1866. Some of the battles the 28th was engaged in were; Shiloh (239 killed and wounded), siege of Corinth, battle of Matomora, siege of Vicksburg. Out of 1720 men 512 were lost. John survived the the war and became a collector for Logan County for the year 1869-70. In 1878 he was a harness maker living in Middletown. In 1880 he was a drug clerk in Lincoln. In 1886 he was living in Spink County, Dakota. I have no other information from there. John was my great-great-great uncle. Kristine Isonhart

John H. DUFF, of Logan Co., IL, son of John Ewing Duff and Juliett Henderson, b.5/25/1840 in IL - served in the Civil War - Co. H, 7th IL Infantry. He was killed in Shiloh, TN on the first day of that battle. John was a grandson of Ebenezer and Sally McClure Duff of Logan Co., IL. His marker is in Laenna Cem., Aetna Twp., Logan Co., IL. Marlyn [Mrs. James] Duff


Augustus PHILLIPS born 14 Feb. 1847 Logan Co. IL was the youngest son of Willis and Mary Matilda Phillips. Augustus Phillips enlisted for service Feb. 11, 1863 at Elkhart. He joined as a Private in the 64th Regiment, Company H, Illinois Volunteer Infantry. His division was transferred to the 17th Corps, 23 Sept 1864, and on 4 Oct. 1864, they began marching towards Atlanta, chasing after Gen. John B. Hood. Augustus was honorably discharged on July 11, 1865. He returned home and married Hester Ann Munyon on July 17, 1871 in Lincoln, Logan Co. IL. Together they raised eight children. Augustus stood over 6 feet tall, had black hair and blue eyes. He died August 23, 1917 Logan Co. IL. He was my Great Grandfather. Lois E. Branch




William SUTTON Pvt., 106th IL US Infantry, Company G. William was listed as a residence of Lincoln, Logan County, Illinois. He went into camp at Lincoln on August 15, 1861, and mustered into service on Sept 18, 1861. Company G was attacked in Carroll Station in Tennessee on December 17, 1861, by General Forrest The company surrendered without resistance on December 10, 1861.The prisoners paroled by General Forrest were sent to Benton Barracks and were exchanged in the summer of 1863. William was married to Charity Craven a short time before the Civil War had begun. Not long after William was done with the war the family moved into Boone County, Iowa, and eventually settled in Custer County, Oklahoma, where they are buried. His tombstone reads: William Sutton 1832-1908 Co G 106 IL INF. He was my great great great great grandfather. Charla Watt


George Milton WELLS and Joel WELLS were both in the 38th Illinois Infantry. George was in Company F. and Joel was in Company K. George was a resident of Atlanta and enlisted as a recruit on August 16, 1861. He probably was mustered in on August 23, 1861. He survived the war, eventually moving to Hood River, Oregon, where he was a member of the GAR. He died in Hood River, Oregon, on December 19, 1913 and is buried in Idlewilde Cemetery, Hood River, Oregon. Joel lived in Broadwell. He enrolled on August 16, 1861, and was mustered in on August 23, 1861, at Camp Butler by Capt. Pitcher. He was killed December 31, 1862, at Stone River, Tennessee. George Wells buried his younger brother Joel Wells near the battlefield under a cedar tree. Their older brother Andrew Wells served in Company C 92nd Volunteers, however he lived in Carroll Co. Illinois at the time of the Civil War. Andrew Wells was my great-great grandfather. He married Eliza Ridgeway, daughter of Edward Ridgeway and Ann Cantrell. She is buried in Turley Cemetery under the name of Ann Meeker, wife of Ferdinand Meeker, her second husband. James H. Mileham was her brother- in- law as he had been married to her sister Nancy Ann Ridgeway. Joel and George Wells would be my great-great-uncles. Charlott (Wells) Jones


Thomas LONG enrolled at Lincoln, Illinois on September 8, 1861 as a private in Captain F. Fisk's Company H of the 4th Illinois Cavalry Volunteers. He suffered from catarrah from February 5 to 7, 1862 and dyssentery from July 24 to August 9, 1862. He was honorably discharged in Natchez, Mississippi on January 3, 1864. He reenlisted as a veteran volunteer on January 4, 1864. He was a sergeant in Lieut. Charles H. Bussom's Company M of the twelfth Regiment of Illinois Veteran Cavalry. The 12th Illinois Cavalry was organized at Camp Butler in February, 1862 where they guarded rebel prisoners until they were mounted and sent to Martinsburg, Virginia. They met the enemy many times. He was mustered out at Houston, Texas on May 29, 1866. Thomas was my great great grandfather. He was born on May 22, 1838 and died On June 23, 1917. Roberta Tuller