This page is part of the FREE site located at http://logan.illinoisgenweb.org/. There is NO charge to access any page on this site. If you have arrived here through a pay site click here to go to the original free Logan County ILGenWeb site.
HISTORY OF
LOGAN COUNTY, ILLINOIS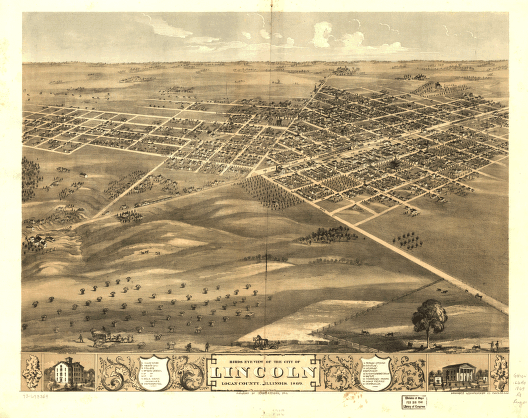 Lincoln, Logan County, Illinois, in 1869
original in Library of Congress


Logan County was formed February 15, 1839, from Sangamon County. [Additional parcels were added in 1841 and 1847.] It was named after Dr. John Logan who was an Illinois pioneer and the father of General John A. Logan. During the 1830's and 1840's was an Illinois State Representative. Abraham Lincoln was one of the prime movers for the formation of the new county.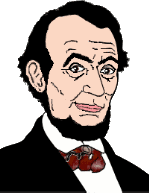 The present county seat of Logan County is Lincoln. It was named after Abraham Lincoln in 1853 -- before he became President. Lincoln christened the new town with juice from a watermelon. The first county seat was Postville. In 1848 it was moved to Mt. Pulaski. In 1855, after a two year legal fight settled by the Illinois Supreme Court, it was moved to the new town of Lincoln, a more central location.

The first known settlers to Logan [then Sangamon] County came in 1819 when James Latham moved north to high ground following spring floods and, along with son Richard and Ebenezer Briggs, made the first settlement by a spring at Elkhart. In 1820 Latham's son in law James Chapman and his wife Betsey built a cabin at Lake Fork on Salt Creek. Two years later the Chapman's moved along Salt Creek to Rocky Ford. Other earliest settlers include James Turley, John Stephenson, Aquilla Davis, Robert Musick and John Porter.

The principal streams are Salt Creek and its tributaries Lake Fork, Deer Creek and Kickapoo Creek and Sugar Creek. By 1823 there were settlements at Elkhart spring, Sugar Creek, Lake Fork of Salt Creek and Salt Creek. Later a settlement sprang up along Kickapoo Creek. Settlement remained confined to creeks until the railroad arrived in 1853. Early place names are associated with the waterways or places on them such as Rocky Ford and Hurricane Creek, both on Salt Creek.

The first school was at James Latham's home. The second was in a stable at Robert Buckles' farm. The first actual school building was built on Lake Fork near the farm of John Turner.
---
Town Histories
History in Pictures
---
This page is always under construction.
---

Email Link


©1998-2002 by Cheryl Rothwell
All materials contained on these pages are furnished for the free use of those engaged in researching their family origins. Any commercial use is strictly prohibited.

Return to Home Page